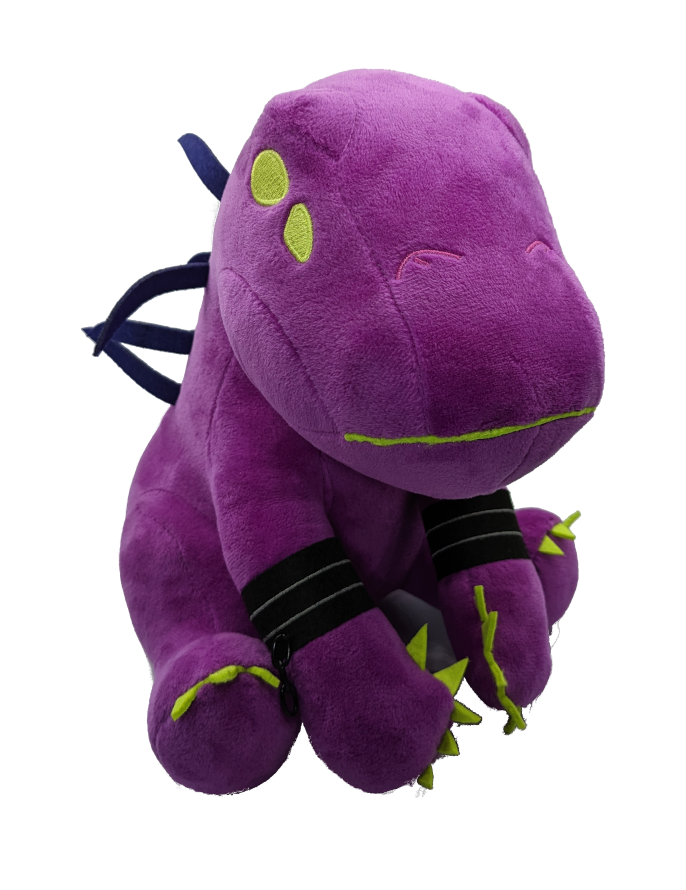 Product Description
Production Update (August 17th, 2023)
Acrid plushies are actively in processing as our team is sending out a couple hundred of these little guys each business day.

Rather than the 19th, we anticipate to be caught up on shipments around the end of the month based on current processing output.

Tracking is sent via email once your order is packed for shipment.

Reminder that any address changes must be requested before an order is marked shipped. Our support team checks for updates before each batch of labels are created.
Production Update (August 2nd, 2023)
Today is the day! Acrid has arrived to our office and is currently undergoing quality control / final preparations for shipping.

As batches of plushies are cleared by our quality assurance team, the packing team will process shipments promptly. 

Once your order ships, you will receive a tracking email. A reminder for international customers that tracking is provided once the order is packed but won't show updates until it arrives to APC for export a week or two later.

We ask for your patience as we work diligently to get all pre-orders out ASAP. If you do not receive a tracking email by August 19th, please reach out to our support team so we can provide you any missing information.

If any address changes are needed, contact us immediately if you have not already. Once an order is packed for shipment, an update can not be made.

As always, we at RobaRoba deeply appreciate your patience during this process.
Production Update (June 29th, 2023)
The port has finally processed investigation on our shipment but has not cleared the shipment yet.

Things are moving forward with additional paperwork that the customs authority has requested in order to clear the shipment.

We are doing our best to make sure everything the port has requested is completed correctly and in a timely manner to help prevent any further delays.

We do not have an ETA yet since the shipment has not been officially cleared yet.
Production Update (June 7th, 2023)
Our local port has informed us that they have still not processed the investigation of our shipment they imposed and that we are number 33 in the lineup of investigations to be completed.

We have been told to expect investigation not to occur until around June 15th,  almost a full month after it arrived to the port.

We will be updating information via this page once available to us. 

We unfortunately have no control over the port authority releasing the container.

All of us at RobaRoba thank you for your continued patience, please do let our support team know if an address adjustment is needed.
Production Update (May 30, 2023)
Acrid has arrived to our local port in Miami, Florida on May 18th.

The port authority has held the plushies in customs longer than anticipated for "random" investigation.

We have been told by the port authority contact to expect clearance of the merchandise within the week but we were told this last week as well.

Once Acrid arrives, we will be shipping all orders out promptly as we have all all materials readily awaiting their arrival (thousands of boxes popped and ready to be filled).


If an address change is needed due to the delay, please mail our support.
Pro

duction Update (May 1, 2023)
We have received notice from the international manufacturing partner that the Acrid delivery was delayed during sea transit again. We understand the repeated delays are as frustrating for you as they are for us.

The delays are outside of our control but we have been given a tentative delivery date of May 17th for their arrival to our local port in Miami, Florida. Once they arrive, we should expect them at our Ocoee, Florida shipping office promptly so our team can begin processing orders ASAP.

If you have apparel combined with your pre-ordered Acrid, all shirts have already been manufactured and are ready to ship once Acrid arrives.

Thank you again for your continued patience!
Production Update (April 17, 2023)
Acrid is still on the way to our office from international transit. We will make update both here and on socials when orders begin shipping. Thanks for your patience!

The deadline for address changes has been extended to April 31st.
Production Update (March 2, 2023)
Acrid had a few hiccups getting shipped out from the manufacturer to our shipping office due to the Lunar New Year.

Our last notice shared we expected them to arrive early but instead, Acrid will likely be arriving to our office mid to late April. This is in line with the shipper's 40-55 day

transit

 estimate.
While we await their arrival, our shipping team would appreciate anyone that has moved or needs an address adjustment since ordering to please email customer support (if you have not already). Make sure to contact us from the email attached to your pre-order and include your order ID with any new shipping information by April 5th.
Production Update (January 4, 2023)
Acrid Plushies have finished production! We are working to get them shipped to us as fast as possible. Looks like we're going to ship these to you sooner than originally expected!
Production Update (Oct. 31, 2022)
Acrid Plushies are now in production. We estimate that they will start shipping the end of Q1 2023.
End of Pre-Order Update (Oct. 19, 2022)
Whoa! What a response. Thank you so much for pre-ordering the Acrid Plush!

We're working on finalizing all of the pre-order numbers and will be placing final orders with our manufacturer soon. 

Once we have estimated completion dates, shipping dates, etc., we will share them on this page.
Update to the Sold-Out Acrid Plush (Oct. 12, 2022)
Original run sold out in 30 minutes!

This is now a pre-order item.

Pre-orders close at 11:59pm EST on Wednesday, October 19th, 2022.

Delivery estimates for the pre-order will be announced soon.

If you'd like to order other items, we encourage you to make a separate order. Any orders containing both "pre-order" and "available items" will be placed on-hold until all merchandise is available for shipment. For more information, please note our policy on pre-order items.

You demanded it for years and finally it's here, a plush of everyone's favorite "acid doggo" - Acrid!
Sitting 10" tall and made of quality materials including thick felt quills and claws with real chains on his shackles the only thing this good boy will poison is your heart.

This product is for promotional use only. It is not intended for children under the age of 15.