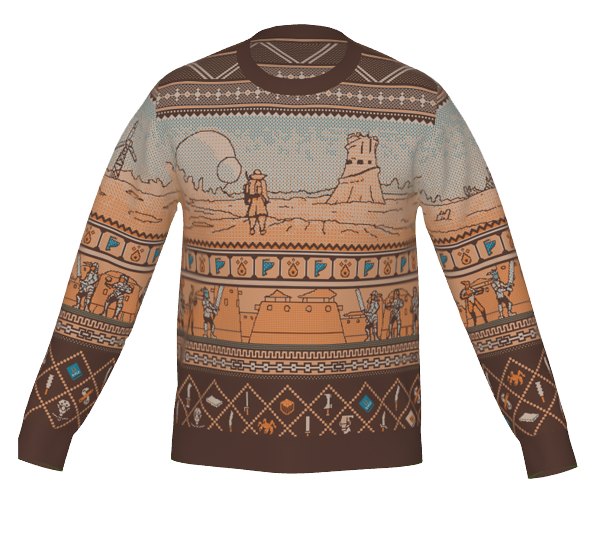 Product Description
Pre-Order Updates Located at Bottom of Description
We are thrilled to announce the arrival of this beautifully designed cozy Kenshi sweater just in time for the holiday period! Get cozy and comfortable with an eye-catching design that showcases Kenshi's unique art style. This sweater will keep you warm during those long nights in the desert. Featuring a cornucopia of creatures and races from the cataclysmic chronicles of Kenshi, this comfortable light-knit sweater is (much like a Bonedog) not just for Christmas.


Orders placed November 1st and beyond are individually manufactured and priced at $69.99, and unfortunately aren't guaranteed to arrive before Christmas Day. Production time for orders is typically 2-3 weeks (plus shipping). Please be mindful of these timelines if you are planning on surprising a loved one with some Kenshi knitwear for the festive season.
This item ships separately from other items in your order. 
Materials: 55% Cotton / 45% Polyester

Sizing Chart:

This item was originally offered as a pre-order product between the dates of October 16th - 31st at a discounted cost of $59.99. Our goal is to ship pre-orders before December 25th, howevever please be advised that is subject to change depending on any unforseen production/shipping delays that could occur. As production continues, we'll keep updating this page (below) to ensure everyone is kept informed.
Pre-Order Updates
10/31/23 - Pre-Orders have concluded. Beginning Production.