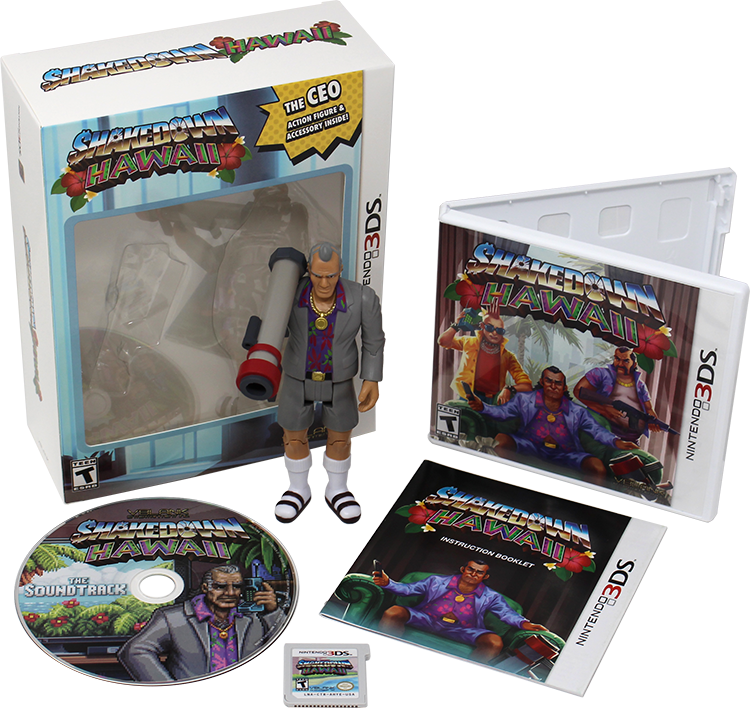 Product Description
The 'Shakedown: Hawaii' Nintendo 3DS™ physical collector's edition includes:


Cartridge
Manual
Action Figure with Accessory
Soundtrack CD

There are a few important things to note:


The cartridge is region-locked and plays on North American region Nintendo 3DS™ and Nintendo 2DS™ systems only.
It was no longer possible to package these games with the preferred "Y-Fold Seal", so they have been shrink-wrapped instead. Shrink-wrapping produces artifacts that may be undesirable to some collectors. Examples include a wavy-effect to the front/back cover, prominent seams along the top, bottom and side of the shrink-wrap, small holes in the shrink-wrap, and air pockets that make colors in some spots appear different. Please look at all of the photos carefully prior to purchasing for examples of what to expect.
There is a 3 copy limit per customer for this item.

The total Nintendo 3DS™ print run is 6,000 copies -- 3,000 Standard Edition and 3,000 Collector's Edition.

Legal:
'SHAKEDOWN: HAWAII' ©2019-2023 Vblank Entertainment Inc. All Rights Reserved.
LICENSED BY NINTENDO. Trademarks are property of their respective owners. Nintendo 3DS is a trademark of Nintendo.
More from vBlank Entertainment